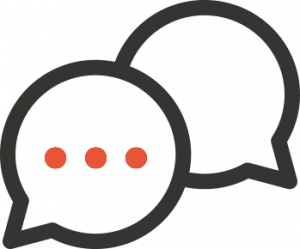 Thanks to the steady globalization, multilingual communication and interpreting have taken on crucial importance today and so has the role of the interpreter.
Prontomondo accompanies and supports you with professional interpreters when communicating orally in Italian is crucial for your business.
The different language skills of our professional interpreters meet all your interpreting needs:  telephone conversations in Italian, business negotiations, business meetings, simultaneous and consecutive interpreting for congresses and conferences but also exhibitions, events and guided tours.
The interpreters provided by Prontomondo are all specialized by language and industry and are also available in the main European countries and in the USA.
In Italy Prontomondo is the first company to have introduced the telephone interpreting, a service we called "Translated conference call".
The service enables a telephone conversation between two people who do not speak the same language to go ahead as normal.  The interpreter acts as the "bridge" between two speakers, listening to each question and immediately translating it into the foreign language, then repeating the process and translating the reply immediately into Italian.
To start and maintain commercial relations with Italian partners, discuss delicate business matters difficult to solve by e-mail, get in touch with hospitals or medical doctors in Italy, follow bureaucratic procedures in Italy, telephone interpreting is the easiest way to meet your needs in a professional manner.
It is the easiest way to effectively speak with an Italian counterpart over the phone without knowing a word of Italian!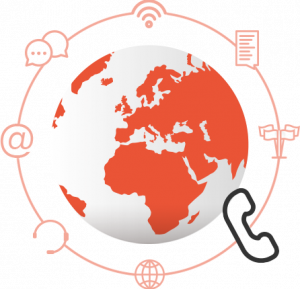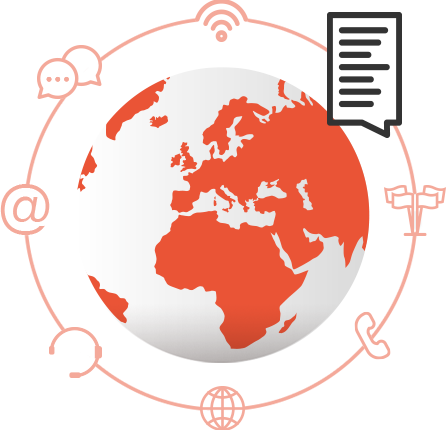 Liaison interpreters are needed when at least two different nationalities meet and understanding and oral communication shall be guaranteed by professionals able to handle the addressed topics with competence.
The liaison interpreters offered by Prontomondo combine great language skills and a deep knowledge of the culture and habits of the country of your foreign partner, besides having the ability to perfectly understand and communicate your ideas and the information you wish to convey in the foreign language.
Our interpreters will be your Italian voice in case of business meetings and negotiations, business lunches and trips, technical training, assistance to delegations, meetings at law firms and notaries in Italy, the major European cities and the USA.
Prontomondo offers highly qualified interpreters for conference interpreting, for all those multilingual highly specialized services useful in congresses and conferences.
SIMULTANEOUS INTERPRETING: simultaneous interpreters  work in a booth, interpreting the speeches of foreign speakers  over a microphone connected to the headsets of the audience. If necessary, they interpret  to the speakers any question from the audience.  
This service is offered for any kind of congress or conference and the booths for simultaneous interpreting may be as many as the languages spoken in the event. It involves high professionalism and great responsibility by the specialized interpreters.
CONSECUTIVE INTERPRETING: consecutive interpreters usually work next to the speaker and use their notes to interpret to the audience when the speaker pauses during his/her speech, generally every 5-10 minutes or so.
This service is mainly used for small congresses and needs no technical equipment.
WHISPERING INTERPRETING: whispering interpreters are "personal" interpreters who whisper the interpretation to an individual listener (seldom 2 or 3 ) as the speaker continues addressing a larger audience.
It is a service used in case of small multilingual working groups or when among the participants to a restricted meeting only one person doesn't speak the used working language. No technical equipment is needed.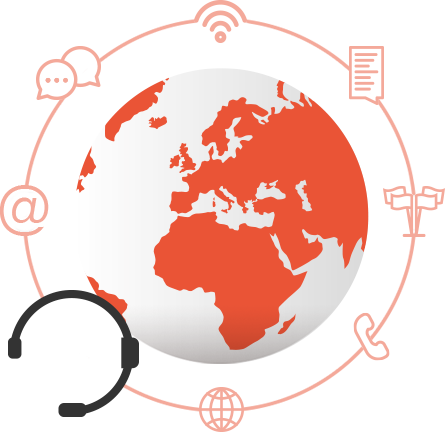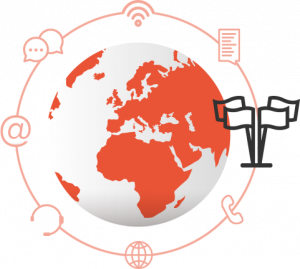 Interpreters for exhibitions and guided city tours
Milan has always been the venue of renowned international exhibitions and also gained popularity as a very appealing tourist city for fashion, art, and design.
For your participation in trade fairs and exhibitions in Milan we can offer multilingual personnel of different professional levels according to your needs:
PROMOTER: a person with a specific background in the product exhibited, trained with illustrative material supplied by the Customer. An excellent knowledge of two or three major languages plus Italian ensures the ability to handle any sale situation.
INTERPRETER: a person without any specific technical knowledge but able to translate immediately any conversation or negotiation with the visitors at the booth thanks to the excellent knowledge of two or three major languages plus Italian .
HOSTESS/STEWARD/STAND ASSISTANT: an attractive multilingual person useful as a support for welcoming, accreditation or ticketing during trade exhibitions and events in general. Upon request Prontomondo may offer uniforms for all its personnel.
If you wish to offer guided tours of Milan to your guests or treat yourself with a breathtaking city tour, Prontomondo has the most suitable multilingual personnel:
TOURIST GUIDE: an authorized tourist guide will accompany your guests on a sightseeing tour on foot or by bus to make them appreciate the most fascinating corners of our beautiful city, speaking their language, .
PERSONAL SHOPPER: our multilingual personal shoppers will offer you or your guests a few hours of exclusive shopping in the capital city of Italian fashion, ensuring a customized service.